Bankroll Management Tips for Basketball Betting
Bankroll Management Tips for Basketball Betting
Giorgio | Netherlands | Monday March 3 2014, 14:03 | 0 Comments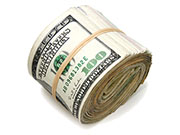 Betting on basketball is going to be very similar to any type of online wagering and gambling activities and this means that you are going to get through some periods when the number of bets won is going to be low and therefore your chances of getting back on your feet without making an additional deposit might get lower too. Overall the thing that you have to be familiar with while betting on basketball is that anything could happen and there is going to be a lot of variance available as you place bets and you must be prepared to fight that with an excellent online basketball betting bankroll management strategy.
The optimum online basketball betting bankroll management strategy
The next thing you have to do in order to make sure that everything is going to be okay is that you only start making bets that are up to 5% of your current bankroll. Even if this might not sound like an excellent and exciting way to place bets in case you have a lower initial bankroll, but this rule is going to be able to keep you safe from the variance and at the same time you will not going to go bankrupt that easily.
Professional online basketball bettors will use even stricter rules and only bet 2% of their bankroll, but at the same time their bankroll is going to be higher compared to a normal basketball bettor.
Basketball betting can be a very interesting activity and at the same time very profitable. In case you manage to gain an advantage over the rest of the people that are placing bets on a certain team by knowing some secret information, you can easily win a great amount of bets.
No comments have been submitted thus far.